Making a decision about purchasing a new saddle can be daunting. This is especially true when the priorities steering a saddle company's product line are uncertain. Rather than compare our products to competitors, we'd prefer to express the priorities behind Moran Saddlery so that you, the consumer, can make an educated decision for yourself.
Moran Saddlery bears the name of its owner and saddle maker, Ruben Moran. The Company was established when, after many years of working with a private label, purchase price became the driving factor in product materials, design and development.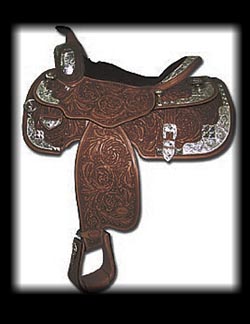 Wisely, Ruben elected to create his own product line because he believes that "cost of goods sold" shouldn't be the sole determining factor of a product's value. Of course, price is one factor that must be considered. Importantly, however, a product's true value comes from a combination of factors including: intelligent design, materials used, craftsmanship, product longevity, and lasting beauty. For this reason, while we watch the marketplace work to lower prices by creating cheaper products, every day we strive to make our products even better. We believe that a saddle built by Moran Saddlery should provide you with tremendous value...not just today...but for many years to come.
We want to assure you that Moran Saddlery will NOT cut quality just to give you a lower price point. While we are mindful of the ultimate unit cost, we will not follow what we consider to be irrational decisions simply to increase market-share.
Significant thought has been given to the design of our product line. Every stitch is checked and double-checked. We firmly believe that our artisans are the best in their respective fields. Our braiders, for example, are able to repeatedly produce reins that have drape and "feel" like those found in museums. Stunningly beautiful, we are very proud that our braiders are part of the Moran Saddlery team. They are truly first-class artists.
We believe that products that are built to last are products that sell themselves. We apply the "Fine Wine" standard to our product line and strive to make products that get better with age. As our leather develops its patina, we believe the tooling only gets more beautiful. We think you'll agree. Further, saddles that start out amazingly comfortable only get more comfortable with time.
In addition to our leather shop, we are unique in that we also produce our own silver trim. This allows us to produce products with incredible continuity. The silver trim is hand made to coordinate with its tooled-leather counterpart. So, instead of simply "slapping on" a silver package, our silver is specifically designed to compliment and accent the specific piece for which it was intended.
When all factors are considered, we believe that our products do not compete with the marketplace, instead, they rise above it, redefine it and challenge the market to make better products. We encourage you to closely inspect our saddles. Ask us questions. Speak to our riders. The bottom line is that when you are done educating yourself about your options, we believe that you will appreciate the value that Moran Saddlery offers.
Sincerely,
Ruben Moran